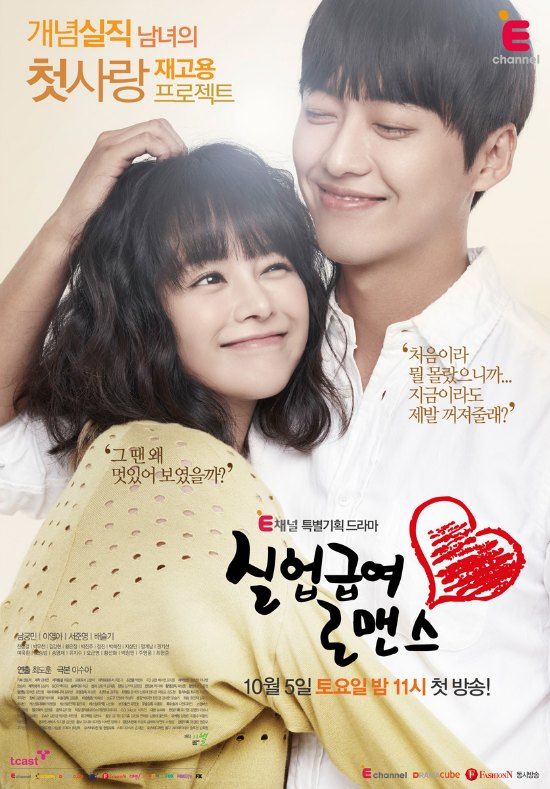 Drama Title: 실업급여 로맨스
English Title: Unemployed Romance
Genre: Romance, Comedy
No. of Episodes: 10
Original Channel: E Channel
Original Run: October 5, 2013 - TBA
"There is only one reason for a person to be nice to another person. An interest in that person."
Song Wan Ha
"Life is a continuous stream of unexpected happenings. Whether it's a good thing or a bad thing. That's why it's worth living."
Im Seung Hee
(Episode 8)
"One's misery can only be overcome by someone else's sadness."
Park Gwang Pal
(Episode 9)
"Other people only look at the result, not the process. But regardless of the result, family recognizes the process."
Kim Jong Dae
"Dreams don't have to be something grand like other people want."
Im Seung Hee
(Episode 10 - Finale)
"Dating doesn't go well just because I work hard on it."
Moon Seon Joo
"One piece of truth that comforts us is, that love is not equal to everyone."
Im Seung Hee
"(Jong Dae: Why do you like me?) If I knew the reason, I woudn't like you. Because I don't know the reason, I continue to like you."
Oh Yeon Woo
"If I had a reason to date someone, that's because of his good credentials."
Oh Yeon Woo
"Being poor is not just a litle inconvenient, it's very inconvenient. Future is not just uncertain, it's foggy. But it's okay, because our love will shine."
Im Seung Hee & Kim Jong Dae