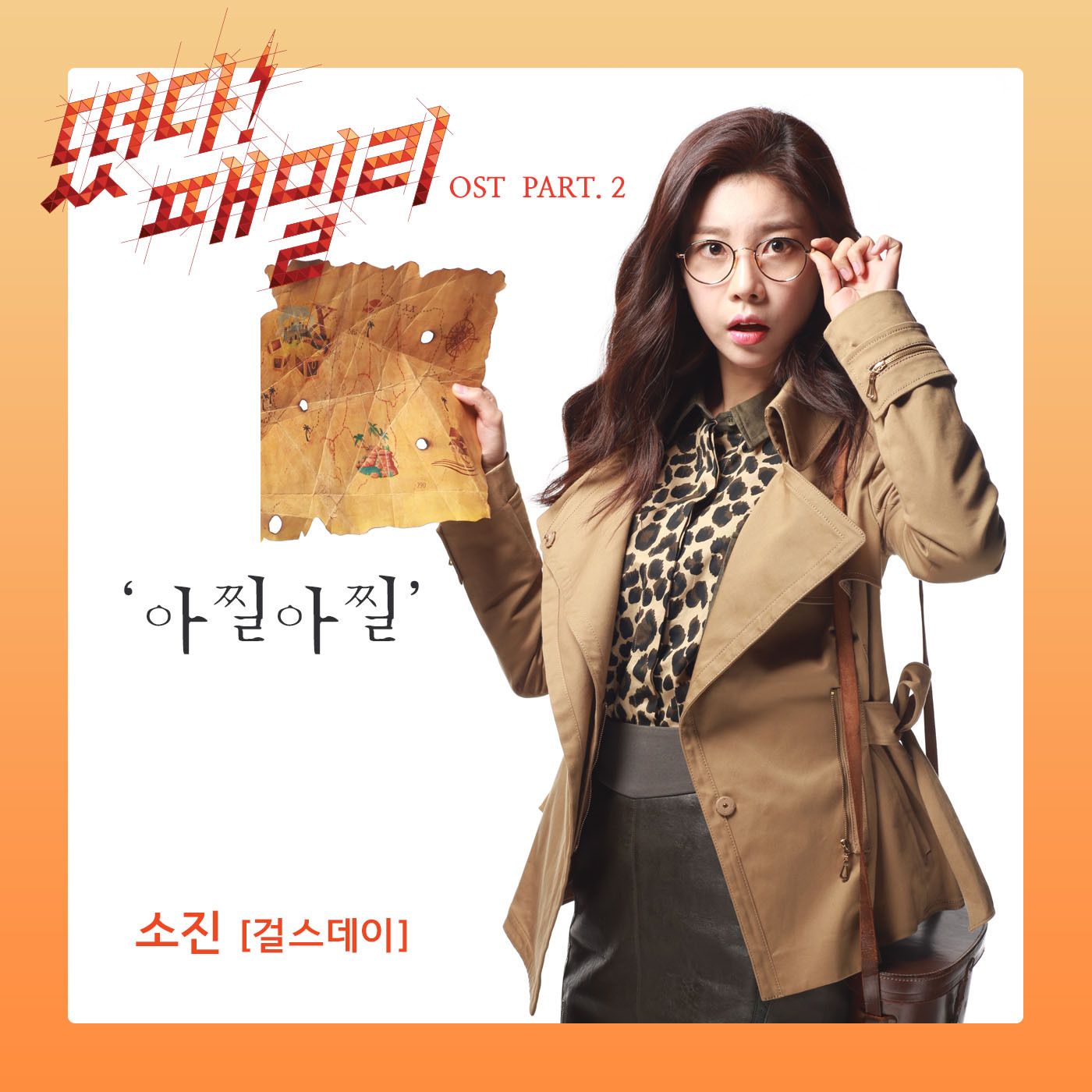 Hangul & Romanization
© Daum Music • ixtyjjang
슬쩍 훔쳐볼까, 모른척할까
seuljjeok humchyeobolkka, moreuncheokhalkka
온종일 울려되는 톡만 궁금해
onjongil ullyeodwineun tokman kunggeumhae
표정관리 안돼 너와있으면
pyojeonggwanri andwae neowaisseumyeon
감추려해도 티가나
gamchuryeohaedo tigana
i'll always think of you
i'll be always loving you
내가슴이 너래, 너만 원한대
naegaseumi neorae, neoman wonhandae
백번천번 물어봐도
baekbeoncheonbeon mureobwado
내맘 아찔아찔하게 아슬아슬 하게
naemam ajjilajjilhage aseulaseul hage
손끝 살짝 스칠 때 숨을 쉴 수 없어
songgeut saljjak seuchil ddae sumeul swil su eobseo
입가에 번진 미소를 참긴
ipgae beonjin misoreul chamgin
난 너무나 벅차
nan neomuna beokcha
내맘 짜릿짜릿하게 찌릿찌릿 하게
naemam jjaritjjarithage jjiritjjirit hage
한순간에 심장 쿵. 어쩔수가 없어
hansungane simjang kung. eojjeolsuga eobseo
온몸에 퍼지는 두근대는 떨림을
onmome peojineun dugeundaeneun tteollimeul
멈추고 싶어. 뚜루~~~
meomchugo shipeo. dduru~~~
맑았다 흐렸다 상관없는척
malgatda heuryeotda sanggwaneobneuncheok
네 기분따라 내 마음도 흔들려.
ne gibunttara nae maeumdo heundeullyeo.
빤히 쳐다보며 장난칠때면
bbanhi chyeodabomyeo jangnanchilttaemyeon
어쩔줄 몰라 당황해
eojjeoljul molla danghwanghae
i'll always think of you
i'll be always loving you
내가슴이 너래, 너만 원한대
naegaseumi neorae, neoman wonhandae
백번천번 물어봐도
baekbeoncheonbeon mureobwado
내맘 아찔아찔하게 아슬아슬 하게
naemam ajjilajjilhage aseulaseul hage
손끝 살짝 스칠 때 숨을 쉴 수 없어
songgeut saljjak seuchil ddae sumeul swil su eobseo
입가에 번진 미소를 참긴
ipgae beonjin misoreul chamgin
난 너무나 벅차
nan neomuna beokcha
내맘 짜릿짜릿하게 찌릿찌릿 하게
nae mam jjaritjjarithage jjiritjjirit hage
한순간에 심장 쿵. 어쩔수가 없어
hansungane simjang kung. eojjeolsuga eobseo
온몸에 퍼지는 두근대는 떨림을
onmome peojineun dugeundaeneun tteollimeul
멈추고 싶어.
meomchugo shipeo.
내맘 아찔아찔하게 아슬아슬 하게
naemam ajjilajjilhage aseulaseul hage
두눈 마주칠때면 고백하고 싶어
dunun majuchilttaemyeon gobaekhago shipeo
널 향한 내맘 혼자서 참긴 난 너무나 벅차
neol hyanghan naemam honjaseo chamgin nan neomuna beokcha
내맘 짜릿짜릿하게 찌릿찌릿 하게
naemam jjaritjjarithage jjiritjjirit hage
오늘처럼 나란히 함께 걸어갈 때
oneulcheoreom naranhi hamkke georeogal ttae
네두손 꼭잡고 크게 외치고 싶어
neduson kkokjapgo keuge wichigo shipeo
사랑한다고
saranghandago